I have a few layouts to share with you this evening. The first one has been entered in Scrapbook.com Spruce up your Background Paper. I had a plain sheet of grey cardstock and I sprinkled and smeared distress reinkers.
The next layout is for Scrapbook.com April 4 Categories - Technique 3 which called for using this sketch and altering it in some way.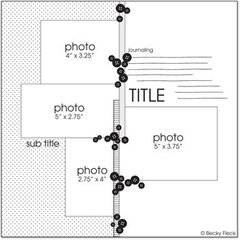 My changes included adding bling all over and not using a title, sub-title or journaling.
I am also entering this in Sketches4All April Stash Challenge which calls for using flowers and bling.
My last one is using the sketch from Sketches4All April Sketch challenge.
I rotated the sketch 1/4 turn clockwise and used three photos instead of two.
I am also entering it in
Scrapbook.com
April Four Categories - Category One - Product - Vellum.
I hope you have enjoyed these and will continue to stop by my blog to see more of my wonderful day touring Winterthur.